UK People Finder
Can you mention a few good UK people finder websites?
In the UK, there are several options when it comes to online people search engines.

You will find the most popular one here.
How to find someone in the United Kingdom? You can use a website that finds anyone for you. Or a professional private investigator who helps you locate this mysteriously lost individual.
They can do a lot of things that we don't even think about and we don't have any clue how to do.
They can find old phone records for example. Phone records from the exact date you stopped hearing from the lost one.
They will investigate the calls that were made the following months and even years if needed. Because they can see the location from where the calls were made. That way they can see if the person moved!
If he or she suddenly makes calls from Newcastle instead of from Cardiff and continues to do that, then it is very likely that the person moved to Newcastle!
The investigator can also check to see if the person still has that phone number today, and if not, he will find out exactly when the lost one changed numbers - where he was living at that time. This is information that can easily lead you to the person you want to locate.

Abosede Okereke living in Germany recently emailed me this:

"Hello, my name is Abosede, my mother's name is Fausat Comfort Animashahun. I was born in 09-12-1981 in Ajegunle Apapa. I am searching for my father Mr Innocent Okereke. He was one navy officer before he become a DJ. But now I was told he has traveled out of Nigeria. He is from Imo state. He has a brother named Promise Okereke. Please help me search for him. I don't know were he is, I need your help, thanks!".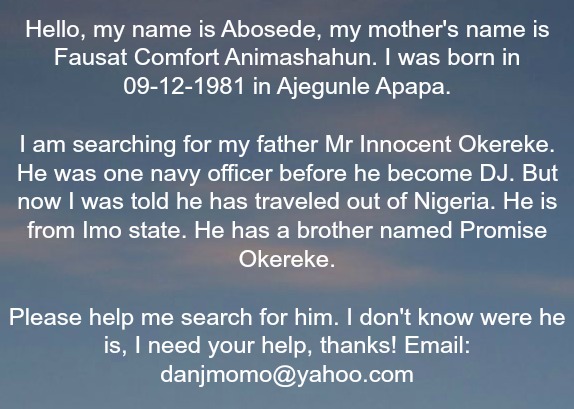 Please, contact a PI in Imo or wherever he was living before he left. Also ask everyone who had something to do with him before his departure.
Personally, I can not help Abosede. I am not a private detective. All I can do is post this here and hope that someone else will see it and know what to do. Can you help her or do you know someone who can?

UK People Finder Options

Very good UK people finder websites for the whole United Kingdom:
192.com
It's the most popular one at the moment. There are also a couple of others. You can find more suggestions here: the England People Search page.
Some missing person info on Wikipedia:
wikipedia.org/wiki/Missing_person