Most Reliable People Search Engines

A Guide To The Best Locator Engines Around

Do you know that any small detail you have about the lost one could be important? In the middle of this page you will find a list of quality people locators.
One lady found her father because of something important that she knew.
And that was that he had another daughter about four years younger than her.
She had never met this sister, but knew she existed because her father had told her when she was little.
On the list she had gotten from a people search engine there were hundreds of people who could have been her dad.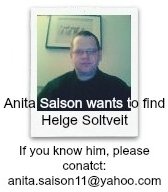 It was a bit overwhelming and she almost felt like giving up when she got the results.
But because she knew about this other daughter she was able to cross out everyone that didn't have two daughters in their 20s. She finally found her father.
When searching for someone you don't want to use any of the sites that will waste your time with wrong data, right?
My friend Abigail recently tried searching for herself on one of the big websites out there. She did find herself, but the information was old.
1. People Finders – A very good US place online for finding lost relatives and old friends.
3. eVerify - Here you can do background checks in America.

4. Genealogy research - If you are searching for already deceased people then number 1 (PeopleFinders) is again the place to go.

5. 192.com - For finding individuals living in UK
More People Search Engines

If you want to see a list of the three best people search engines, you can visit this page (on this same website).
Here is an email I got from Lidia in Bulgaria:

My sister Maya moved to Kansas City last year. She has been coming home often and calling us regularly. But not during the last few months.
In her last email she said that she had met a man and things were moving pretty fast between them. She never told us his name, but she called him Matty.

My whole family is worried and my mother said that maybe she has gotten married and forgotten all about us, but I think that would be very strange. And I'm sure she would have invited us to the wedding too.
So what could have happened? We live very far away from where she is, so we feel a little powerless. But we think about her every day...

Lidia

Well, if your sister suddenly stopped emailing, something must have happened. I don't want to scare you, but..

1. Something has happened that she is embarrassed of, maybe failed her courses at college or got fired from work…

2. Her boyfriend is extremely controlling and does not let her keep in touch with her family…

3. There could have been some accident involved, but if it would be serious your family would most probably have been contacted by now, so don't worry too much about that.

You can try to find her on the search engines for people that I have mentioned on this page. Also read more on the Missouri People Finder page.
Another idea would be to call her university or her work and explain the situation. Most of us are understanding in these kind of situations and someone might be able to give you a few ideas on how you could contact her. And maybe they can forward a message from you or something similar.

Another idea would be for you to travel to Boston and look for her there. I know it might be an expensive trip, but most times it really is easier to find a person if you are there yourself!
Good luck Lidia and do let me know how it goes!
Hope you will find one favorite among the 5 people search engines I listed on this page!
Looking for someone in for example Arizona, or how about Massachusetts?

You find more states on the USA page :)
And here is a review of yet another people finder: Intelius People Search
Interested in Free People Search Engines?
Check out Zaba People Search