Find People By Maiden Name

People Search Using Their Middle Names
I would say that if it is very difficult to track someone down with the name you've got, it could mean that this person has married or maybe even re-married, who knows?
I'll help you find people by maiden name!
These are reasons to change a surname.
But if she has grown children who might still have kept her old family name, search for them instead!
The picture below, by the way, is from my cousin's wedding :)
How to Search for a missing Person by Maiden Name

Maybe you can get some ideas on what to do by reading about what happened to me!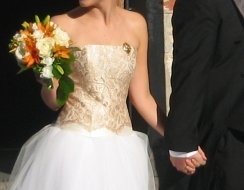 I lost touch with my friend Rachel after graduating from high school.
She moved to the States to study and I stayed in Europe.
Recently I wanted to find her again and searched for her with the name I had.
It seemed as if she wasn't anywhere.
But finally on Facebook I found something.

Interestingly enough, first when I wrote her name in the search box I couldn't find her at all.
But then I put her name plus the school we went to in the search field.


And there was an article about her right there!
The year we graduated was there, 1998, so that was her for sure!
I clicked on the link and it took me to another website dedicated to reuniting schoolmates where she had a profile.
I now know that her new surname is Webb and we have been emailing each other a lot since I found her. I've seen pictures of all her children and I have also sent her pics of mine :)
More Find People By Maiden Name Tips
Let's say you are looking for a woman who has remarried. Except for trying what I did above, you could also try to find her marriage record. That way you will get to know what her new name is and you will be able to locate her.
In most states these are public records. You may have to pay a small fee to get to take a look at them.

You can try the US Search marriage-and-divorce-court-records search. When you get to the home page, scroll down to the section More Services.
Tomislav from the detective agency Experior says this about doing a maiden name people search:
- If you know the approx. date of their wedding, you could check in local newspapers for data about wedding couples.
It is quite common to place small announcements of weddings in newspapers, so that could be a good thing to do.

My friend Janice wanted to locate a relative who had married a man in Japan. She knew where the relative had gone to college, so she was lucky that she found this relative of hers on the schoolmate website where I also found my high school friend.
Thanks for reading my find people by maiden name page!

Here is one more page on this website you should not miss:

I would appreciate it if you could like my activity on Facebook! It's easy, just click the "Like" button below :)
Thank you so much!

You are here: Home › Find People By Name › Maiden Name