People Finder in Canada

How the Pros Locate Missing People in Canada

A people finder in Canada recommendation by a professional. For those of you who want to learn how to do a people search, here is an interview with Michael Tucker from RIS Limited. 
He also mentions a good Canada people finder!

The How To Find People in Canada Interview:

PI Michael, what can you tell us about finding someone in this country?

Most of the time the police is not very interested in looking for adult missing persons.
But of course it varies from situation to situation.

Something good to know is that PI's have contacts all over, so hiring a detective could be a solution.
But of course it depends on who you are looking for.
Is there a service number in the Canada people can call if we have the name of a person, but we need to know the phone number?

Yes - Bell 411.

Can you recommend a people search in Canada? And can we find white pages Canada online?

Yes, whitepages.ca and, the Canada people finder 411 could also be an option when you want to look up people in Canada.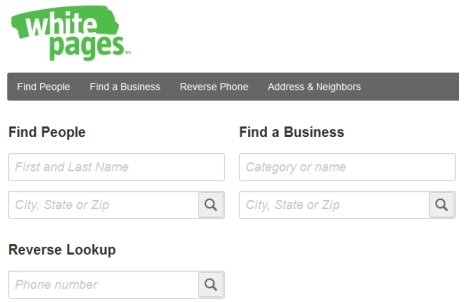 They have a reverse phone number lookup Canada there, but they also have a revers lookup on the white pages website.

When searching for someone who is missing, what do you think are the best steps to follow?

Check their usual haunts and check with their friends.
Check to see if their credit cards are being used and if their bank balance is being accessed.
It's sometimes a bit sad when we find a person who prefers to remain "missing".
Someone who doesn't wish to return home.
If they are adults, there is little we can do except contact the client and advise them where the person was located at the time we spoke to the missing person.
If possible, we put the client in contact with the missing one and let them discuss the reason why they left or ran away.
Thank you, Michael for helping me with this People Finder in Canada page!

Another People Finder in Canada
I also know that there really are some cases where the lost one does not want someone to find them... But it's rare. Most times people are happy to find that someone is looking for them, and they will be more than happy to forget the past and reunite with loved ones.
Here is one more site to try:

wink.com/canada-people-search
---
Here is an email I got from a worried reader plus my answer:
"I have met a person online, I like him very much and I've invested quite a bit of time into writing to him, but there are certain things he says that seem a bit odd. He says he is living in Vancouver like me, but I have my doubts. I'm not even sure he lives in Canada. Should I be worried? Do I need to use some people finder in Canada to find him and do some research on him? - Jade"
Thank you for asking Jade. I can see everone's IP addresses who contact this website. Maybe just have him message me and I will see what country he is emailing you from. Let me know if that would work out. But if he seems strange and if you have suspicions about him at this early stage, maybe just let it be. It's not worth spending too much time on something like that, especially if you guys don't have any plans of meeting "live" soon. - Tonia

---
Is your birth date March 3, 1985?
The woman below is looking for Jean-Marc Dalinel (not sure I spelled the surname correctly), born in Ottawa...


This Canadian PI agency could be good to contact when looking for individuals:
Michel Corneau in Montréal

You could also try this one: